A 5-step Guide to Develop a
Modular System
An optimal Modular System is found through intentionally balancing all stakeholder's perspectives.
To develop a Modular System you need a systematic approach and in this guide, we will take you through a method called the Modular Function Deployment (MFD).
MFD can be used to modularize a wide range of different products and consists of five steps. This guide will take you through each of these steps and provide insights on how you can create the optimal Modular System of your product and business.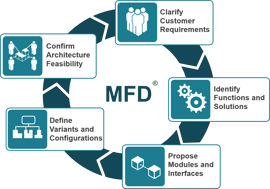 Download Guide
Fill in the form below and we will send the guide to your inbox.
Make sure to check your junk folder if you don't receive it.