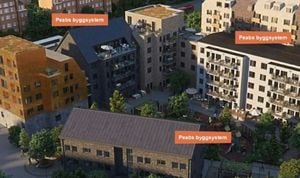 Peab is one of the largest contractors in the Nordics for building and home construction.
The company has been able to create a modular product architecture that enables flexible, affordable and attractive housing.
Peab's business for building construction was experiencing a number of challenges, including increasing market demand for lower cost multi-family housing, declining productivity, incomplete building drawings, and previous failed efforts to produce prefabricated buildings with enough variation and features. To solve its challenges, Peab had to find a holistic solution that leveraged the repetitive elements of its manufactured building components (product business) with its flexible design and build capabilities (service business).
Peab embarked on a modularity program with the support of Modular Management. This program generated results including a 50% reduction in building design costs, 50% less construction time, 75% less rework, 50% reduction in on-site indirect costs, and 16% overall cost reduction. The modularity program enabled cost reductions and productivity improvements while enabling the necessary building options and variety.
Flexible and Attractive Housing
Peab PGS shares how a product architecture enables flexible, affordable and attractive housing. If Swedish isn't your language, fast forward to 2:05 and see the architecture in action. Even if we're not totally objective, 'Housing for Everyone – Collaboration is Key' is a cool video.
Full Story
Company Description
Peab is one of the largest contractors in Europe's Nordic region for building and home construction. The company provides construction services, civil engineering services, industrial products and property development. The largest division, construction services, is divided into regional groups that manage their own sales, profits and operations.
Contractors like Peab work with architects, designers and clients to coordinate and manage the construction of a building. They provide all the material, labor and equipment and hire any specialized subcontractors needed to complete the project. They work from a contract to build that includes a budget and schedule. Peab is constantly bidding on new contracts and their profitability is tied directly to the winning bid price and effective project execution.
There are many interacting systems within a building that need to be coordinated though the design plans and site construction manager. The industry is conservative and innovation is slow with new designs being implemented for the first time on actual projects. On any one construction job, there are always unknowns that need to be figured out by the onsite team.
The industrial products division of Peab manufactures building products including roof tiles and prefabricated concrete elements. They also supply raw materials in the form of asphalt, concrete, gravel and rock. The operations of this division are in stark contrast to the operations of construction services. Here the company can deploy industrial processes to optimize the cost, quality and lead time of the associated products. It is difficult to implement the same concepts in construction services because almost every new building is unique.
Business Situation
Newly constructed residential buildings in the Nordic regions of Europe had become inaccessible to people with normal levels of income. Purchase prices and rents had increased disproportional to existing buildings. A large market opportunity existed for any construction company who could bring the right product to the market at the right price.
In response, construction firms were looking for ways to reduce costs and offer a more affordable product. They were also striving to shed a reputation for being wasteful and inefficient. Government studies at the time showed the vast majority of industries making productivity improvements over the years, while construction has seen decreased productivity.
The fourth or fifth time a copy of a building was built, firms could reach significant cost savings. This seemed the simple solution, but communities want to control the style and variety of buildings within their boundaries. In reality, a standardized building has a very limited market, and any pre-manufactured building needs to be adapted to both the local site and the demands of customers, local authorities and architects.
Another way to reduce cost was to develop industrial-type processes that would improve efficiency of the actual construction. These processes could also support the construction of buildings with lower-skilled workers. This was not only a desirable position in terms of lower labor cost, but it also addressed the predicted future shortage of skilled tradespeople.
In 2002, Peab setup an internal project called Peab Gemensamt System (PGS) to investigate answers to these challenges. They looked into continuous improvement initiatives, including Lean, that could remove waste and reduce costs. They also looked at using more pre-manufactured components that could be built in a factory and assembled onsite. At the end of two years of investigation, the team had a good idea of the scope of changes that were needed. They needed to change both processes and designs, but they did not have a viable approach to do it.
Product Marketing & Management
There are basically two channels though which buildings are designed and constructed. The first is a direct sales channel where an independent owner, usually a real estate developer or the long-term building owner, tenders the project. The owner determines the specification, and potential contractors bid for the job competing primarily on price and, to a smaller extent, lead time.
The other channel is for the contractor to build on speculation (spec). They develop their own land with a building that is targeted at a specific customer group while anticipating an eventual buyer. There is more freedom to design a building meeting cost objectives, but the builder is still subject to the requirements of architects and external designers who might not share the same priorities. For both channels, the local authorities have the final decision determining whether a building will complement the neighborhood.
Product Design & Engineering
The complexity and massive number of details in a building design meant that no design was ever fully completed. There were always details that needed to be figured out during the actual construction. Plans would often include notes that were guidelines for completion, but they won't specify the detailed design parameters. This happened often, for example, with curved and blended corners where the details of the final product were left up to a skilled tradesperson. For any one project, it was hard to predict what would be the onsite challenges.
New designs and concepts were conceived electronically or on paper by architects and engineers outside of Peab. The CAD systems that were used were not homogeneous, and the data being shared was mostly two-dimensional sectional drawings. The design teams were constantly starting new full-scale experiments that are put into practice by the Peab construction team. The self-contained process of new product development did not exist at Peab. If the new design didn't work-out, they needed to adjust and make the overall project come together.
Product Operations
The operations team at Peab was constantly challenged with the generation of waste. Waste includes pure waste such as wait-time, interruptions from weather and rework. It also includes forced waste from new and unproven designs; changes in people's roles and responsibilities; and overlooked details in the construction process that generate unnecessary activities. Waste can also occur with any building construction project from a lack of a systematic, industrialized and optimized approach. Onsite costs are decreased only when a project runs more smoothly.
The skills and experience of the site manager was an essential component for project success. Decisions and reevaluations are constantly made by this person and the individuals who do the actual work. They are constantly adapting and adjusting, and they use team consensus and opinions to feed the decisions. One of the big challenges they face is the quality of the incoming supply of materials. In most construction operations, there is no process or individual proactively managing this, and site managers need to react when a problem arises.
Goals for the Modular Architecture
By creating PGS, Peab sought to make significant changes to the way buildings are constructed. They first looked at ways to apply Lean and other industrial methodologies to the current processes. Limited productivity gains came out of any continuous improvement activity, and after two years they realized that they needed a holistic approach to both the building design and the construction process in order to achieve their goals.
They needed to start from scratch and develop a whole new approach to the building product in order to reach the targeted cost savings. Peab also knew that they couldn't just build the same building over and over again. It would require a product family with a range of buildings like the figure below that have some underlying commonality. After much research and analysis, they decided to pursue a Modular Architecture.
Revenue Growth
By meeting the price point in the market, Peab expected to grow sales at unbelievable levels. They first needed to meet the cost targets, but they also needed to offer customization of the building to maintain visual variety and satisfy the demands of local authorities and architects. They also recognized the advantage of on-time completion of the buildings which would ensure maximum financial benefit for the building owners.
A Modular Architecture would allow Peab to incorporate a range of building features and options into the same family of building products. It would also allow them to phase in and out new designs by maintaining a consistent set of interfaces. With this approach they had a viable plan to meet the market requirements and eventually dissipate the industry's reputation for dismal productivity.
Profitability Improvement
The key to Peab's success in this new market space was a 26% cost reduction. In the past they were able to achieve this cost level only after the fourth or fifth time they built the same building. But now they wanted to do it the first time, every time. Peab expected to achieve overall cost reduction of 15-16% in 5 years and 24-25% in 8 years once volume levels increased.
Peab approached the challenge by applying the promised benefits of a Modular Architecture and identifying targets within each of the cost categories. They set major goals of 50% cost reduction for both the building design costs and the onsite indirect costs. The rest of the cost reductions would come from direct material and direct labor cost reductions.
The team also expected to improve the predictability of the construction process primarily through a 75% reduction in rework. More projects would be completed on-time, overall scheduling would improve and they would incur less rework cost. This rework cost is mostly attributed to the unplanned resources required to correct the details in the final customer sign-off.
Business Results
Developing a Modular Architecture proved to be the key action for Peab to deliver the right product to the market at the right price. After the launch of the product family in 2007, they quickly achieved variable cost targets for design activities, materials and onsite management. The fixed cost would be on track once they reached planned volumes. They also offered buildings that were desired by customers and had enough variety to satisfy architects and local authorities.
They had developed an industrialized process for a design-and-build industry that would lend itself to continuous improvement. Lean could be used to improve process and reduce waste. Materials and resources could now be managed with PLM and ERP systems. Revenue and profits were more predictable and business calculations could be made with some accuracy. Decisions that were based primarily on instinct and past experience can now be supplemented with risk-lowering data.
Compared to the traditional method of construction, the direct staffing for this type of business is greatly reduced. However, the biggest challenge has been changing the minds of the people and getting them to embrace the new way of working. It is very easy for people who have worked in the traditional construction industry to fall back into their old way of thinking. Peab needed to give constant attention to the change that was occurring with this new way of conducting business.
Product Marketing & Management
During the development of the product architecture, the team at Peab worked hard to align building specifications with architects and system designers. They wanted to limit the options and the overall price, but allow for enough design freedom to preserve variety in the housing market. Figure 2 illustrates some of the components and systems that can be selected within the new product family. By having limits, professional customers, such as housing companies, can sometimes feel constrained. Peab is working to overcome these feelings by developing a costing tool that accompanies their building configuration tool. It will help drive the professional customers toward an optimized solution with a faster cost feedback then they ever had in the past.
Product Development Engineering
The engineering activities at Peab have shifted from designing individual buildings to designing the assortment of functions and modules within a product family. In the past, much of their time was spent preparing the plans and site documents used during construction. Now they pre-develop and reuse these documents and continue to improve them as more buildings are built. Past documents were vague and often incomplete causing many things to be solved onsite.
Peab engineering is now much more like an industrial company that designs and produces products. They have an industrial IT setup including part number management through a PLM system and a 3D CAD system that uses parametric models. For many building modules, the variability has been limited and the production process established so that manufacturing drawings are no longer required. For the modules still in need of manufacturing drawings, a configuration tool is used to easily generate what is required.
Product Operations
Lead times and variable costs targets were reached within five years after launch of the new product with volumes at only 25% of long-term forecasted levels. The team expected to meet the overall target as the fixed costs are spread out over higher volumes.
The most significant change to the building process was the implementation of many standard operations. Peab is now employing many more industry workers on the building sites who are skilled at performing standard operations and implementing continuous improvements. This is a larger pool of potential employees versus the pool of specialized construction workers. The final assembly of the buildings onsite is accompanied by complete and reliable documentation that is created during the ordering process within hours of the release of the final configuration.
The factory employs all industrial workers who work on repetitive, well-established processes. The production of concrete inner wall elements began in the traditional way using detailed drawings that included the overall dimensions, specifications for steel reinforcement and the location of any doors. After building a handful of walls, the workers no longer needed the drawings. They were able to accurately manufacture the component using the bill-of-materials and the configuration information.
By predefining the assortment of building dimensions, features and options, the operations team has been able to reuse forms, tools, and fixtures while implementing dedicated production stations. Forms have been designed on a grid of 100 millimeter increments to allow for efficient resizing and repositioning of features. Problems in manufacturing are avoided or solved more quickly, and there is a good flow of communication between onsite and back-office engineering. They have a plan and a team to execute each building and know what they are doing to a high level of detail.
They are also managing their supply chain more effectively. Materials and components that gained enough volume are being produced in Poland or other low-cost countries. Peab factories can now purchase components directly from the OEMs where they were previously required to go through a distributor. They have also started to co-develop new components with industrial suppliers in a typical OEM-supplier relationship.
Summary
Peab spent a lot of time during the development of the product architecture to develop a standardized interface for the way a floor slab attached to any vertical load carry element. During typical building design, a lot of attention is focused on individual joints to ensure robust connections, but no company had looked across all the different combinations of elements being joined. Now, within their new architecture, an individual building element's joint doesn't need to be defined. Common connections have greatly improved their overall efficiency and reuse of components.
Peab enabled a cost-optimized overall structure while considering all the layouts that they wanted to include in the architecture. They wanted to make sure the whole system was considered. The PGS project also changed all the processes from building design to construction to emulate the industrialized processes in other industries.