Since the birth of mass-customization, modularization and configurable product platform design has been key tools to enable both internal and external efficiency. Companies want to develop new products fast, and tailor them towards the need of the individual customer. While simultaneously keeping the industrial operation efficient and stable. In essence, they would like to have the benefits of both simplicity and variety in their product portfolio. Modularization and configurable product platform design serve this task well.
Modularization and configurable platform design have been key tools to enable both internal and external efficiency since the birth of mass-customization
Over time, the expectation of customization has grown even further, while product companies have continuously improved their modularization and product platform design. What started as grouping similar models on a common base, has developed into scalable, unified, and agile product platforms. While some sub-platforms have a very rapid development, others are rather used to scale the capacity and performance of the configuration. One great example of this is Volkswagen Group's journey from many singular models under different brands, towards a completely unified platform for electric cars (SSP platform planned to be launched in 2025).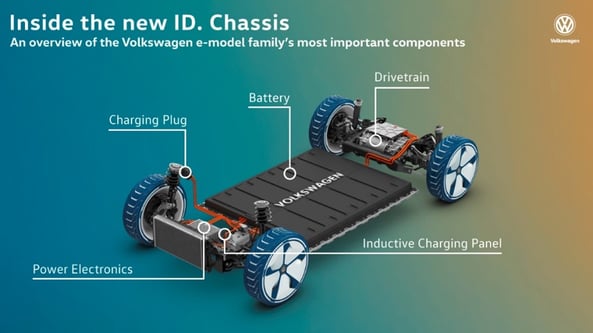 Volkswagen group's MEB platform, creates a shared structure from small passenger cars to family buses, across all their major brands.
As the sophistication of modularization and product platform design grows, it is of fundamental importance that the capabilities of the company grow at the same speed. Both organizationally and digitally. If they don't, the company may end up with less profitability, and deteriorating platforms.
In this blog post, I will explain what a product platform is, why companies are using them, and how they can further improve to truly master the topic.
What is a Product Platform?
A product platform is an underlying modular system that allows the combination of modules into products according to a defined structure and rule set. A product platform is always shared across multiple product variants, enabling sharing of structure, modules, or parts between products. A product platform is underlying in the sense that it is often not marketed, nor visible to the customer. Rather it is a way for the company to increase its operational efficiency without sacrificing external efficiency (being able to fulfill the unique customer's needs). In some businesses, like automotive, product platforms are marketed as such, often to highlight technological advancements and performance.
Product platforms may be cut in the product dimension, the functional dimension, or in a combination of both. A functional dimension platform that is shared between multiple product dimension platforms is often called a transversal platform. The complete picture, showing the eco-system of multi-level product platforms is typically called a high-level product platform, or high-level modular system.
A product platform is not necessarily fixed. It can evolve over time to enable configurations that are updated to deliver increased performance, new applications, or cater to additional customer preferences.
A product platform can consist of mechanical hardware, electronics, hydraulics, software, or even services. And of course, combinations of the above. There is often a big benefit if the experts from these different areas work cross-functionally when defining the platform, to find interfaces that serve all needs.
Agile Development and Product Platforms
Over the past few decades, Agile principles have been indispensable for software development. It has changed the way software architects and developers work with requirements management and project planning. Over the past years, more and more hardware companies are also opening their eyes to the possibilities of Agile for hardware development. With multiple teams spanning different sites and geographies, and a surrounding world changing at an increasingly fast pace, the Agile approach is attractive.
Not only are Agile and product platforms a great match, but some key experts even define a stable product platform, designed for change, as a prerequisite for working within the Agile framework. A key element of Agile is the work being distributed in packages and changes integrated into the product with frequent releases. Modular products enable small changes, without having to redesign the whole product each sprint. For this process to be efficient, the interfaces between the modules must be robust for change, being what I call a stable product platform–the platform definition remains, even though modules have evolved.
Three Examples of Modular Product Platforms
Product platforms are used across all industries: companies selling off-the-shelf SKUs, companies configuring each order, and even companies that engineer each order. The key benefits of using a product platform remain.
Example 1: Husqvarna Group Electric String Trimmers Product Platform
Electric trimmers are sold at retailers and dealers. They have multiple performance levels, features, and functions and are marketed across multiple brands.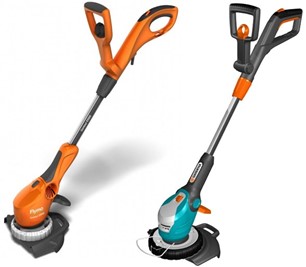 The primary objective for the electric string trimmers platform was to create a global portfolio of brands with a uniform approach for each brand across all channels and geographies. Husqvarna looked to a modular product platform to combine the needs of the various brands and regions into an efficient family of products. The product development teams would work together to develop the modular product platform, which then allowed the suppliers to complete the detailed designs and build the products in a more uniform and optimized way.
Example 2: Wärtsilä Medium Speed 4-Stroke Engines Product Platform
Wärtsilä 31 engines are truly flexible to meet varying customer demands. They can use HFO, LFO, and natural gas, plus any combination of these fuels. The initial launch of the product family can be configured to host 8 to 16 cylinders that crank out 610 kilowatts per cylinder. This is the highest power per cylinder and total overall power for middle-power range engines. They achieved above 50% efficiency rating, making this the most fuel-efficient four-stroke engine in the world – for which Wärtsilä received a Guinness World record award.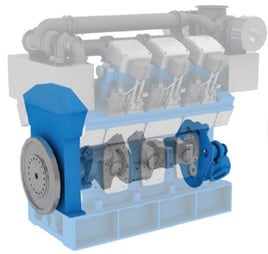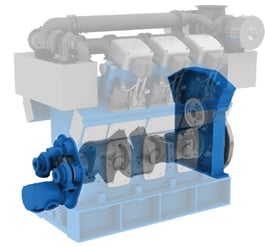 The product platform is highly configurable to meet the specific requirements of Marine and Energy customers.
Example 3: Valmet Paper Machines Product Platform
Valmet is the world market leader in the field of board and paper machines. These machines are complex and each is unique. Every order is a large engineering effort, and a key enabler to enable continuous improvement of the heavy steel designs is the reuse of a shared platform.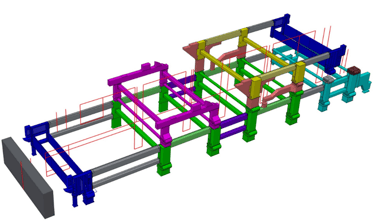 Valmet started reusing the shared platform by first modularizing one of the key sections of the paper machine. The focus was given to lowering engineering, procured material, and production costs while keeping a high degree of customer and product flexibility.
The cross-functional development team created many new solutions, one being the modular frame platform. The new frame became lighter, easier to produce, and more cost-efficient. It also includes fewer unique parts to build the many different section variants.
Why are Companies Using Product Platforms?
The benefits of using product platforms can be seen across all the key functions in business: Sales, Development, and Supply Chain. Everyone who is in some way involved in designing, marketing, producing, or servicing the product will benefit from reduced product complexity. In addition, product platforms can also be a facilitator for circular products, where stable interfaces are a prerequisite for interchangeability and backward compatibility.
Sales and Marketing and Product Platforms
A product platform can be used to enable the customer to adapt the product according to her needs. This is called sales configuration and is meant to combine the flexibility of a tailoring process with the efficiency of mass production. With a configurable product platform, the customer can immediately know if the asked-for configuration is available and its price. In a tailored process, the flexibility may be even higher, but the outcome is much more uncertain regarding the quality, time, and price.
Development and Product Platforms
Product Development has the task of developing and maintaining products. Developing an advanced product is a massive undertaking, and for many businesses, the investment can be counted in millions of dollars, and years.
By creating a structure that is flexible for a multitude of products, the development process can be made much more efficient. Developing a product family is without a doubt more demanding than developing a single product. However, the benefits will be apparent in the design, testing, and industrialization of only a fraction of the parts compared to separately developing each product that relies on the product platform for its configuration.
Supply Chain and Product Platforms
The benefits of using product platforms can be seen across all of the Supply Chain.
In the inbound supply chain, harmonization of components across products will allow larger quantities to be purchased from fewer suppliers. This can give better purchasing leverage, as well as make the inbound transports more efficient.
Internally, warehousing is made simpler with fewer unique components to stock and a reduced average inventory level. Parts manufacturing is more efficient with fewer unique tools, fewer changeovers, and in the best case, consolidated volumes fill a more efficient manufacturing process. Assembly lines can be designed for flexibility in the different configurations of a platform. As long as the different configurations share an assembly structure, one-piece mixed production may be an alternative for the mass-customization business. Within outbound supply, product platforms can be used to delay the point of variance, reducing the need of keeping individual SKUs in finished goods stock.
What Signifies a Strong Product Platform
A good product platform is first flexible. It needs to be configurable for the needs of the customer. With this approach, a product creates value for different customer groups leading to an increase in the possible price/volume.
Secondly, the platform needs to be agile. The future is always uncertain, and the only thing we know for sure is that things change. To support this, the product platform needs to enable quick introductions of new developments. A good product platform does this by having robust interfaces, so that parts of the product platform can change, without affecting other.
Thirdly, the platform must be efficient. Modularity is not an isolated goal by. With the volumes, material costs, and complexity costs in mind, a balance must be found to create a profitable product platform.
Product Platform Scope
As already mentioned, a product platform can be cut both in the product dimension and in the functional dimension. For both, we could define that the scope of the platform is measured as how big of a share of the offered portfolio is covered by the platform. Let's think of a company making electric vehicles for example. In the product dimension we could have anything from one single platform that is used for all the offered models, to one platform for each model. In the functional dimension we could either not see any transversal platforms, or we could see transversal platforms covering all products.
Increasing the scope means more chances for commonality and consolidating volumes over a higher span. Thereby increasing the chances to have mixed productions of all products on flexible lines. However, an increased scope may also make the initial platform development more complex, and changes more rigid unless the platform is prepared for them.
A typical issue for companies using product platforms is that the platforms tend to deteriorate over time. For example, when only parts of the platform are updated or a product development project changes the interfaces used on the product platform. The result might be that supply and aftermarket are forced to handle multiple generations of a platform concurrently.
Product Platform Strategy and Management
Product Platform Strategy is about the company's capability to align business strategy with product platforms. While also having the competence and structures in place to efficiently enhance and evolve the platform(s) to include new requirements and solutions over time. Leading companies don't develop platforms and leave them to deteriorate. They constantly evaluate, improve, and strategy-align their platforms to get the maximum benefit from them.
Product Management vs Platform Management: Roles and Responsibilities
From a marketing and product management perspective, a product platform may support a structured approach to strategic product planning of the complete portfolio covered by the platform. A shared structure of how the products are different and what market segments they are focused on can help product managers optimize the product mix and prioritize the product roadmap.
While singular product companies typically organize the management of the product by appointing product managers that are responsible for the profitability of the product, companies owning product platforms may need to take a different approach. A key point of employing a product platform is the focus on optimizing the whole, rather than the individual product. Focusing on individual products may actually reduce the overall profitability of the product platform-owning company. Product focus may lead to broken interfaces and more variants of modules than what is optimal.
To ensure a bottom-line perspective of the whole platform, companies need to revisit their product organization and find ways to divide the responsibility and work without detracting from the overall targets. An example of managing these competing priorities well is companies that appoint module owners and platform owners who are then responsible for the performance and profitability of the key objects of the product platform. Product management is empowered to focus more on commercial planning with commercial product roadmaps, optimizing when to phase out non-profitable products, replace existing products, or introduce completely new products. Platform and module management then is allowed to focus on enabling the commercial roadmaps and optimizing the efficiency of the platform and modules over time.
Decision Models for Product Platform Governance
The management organization of the product platform needs to be coupled with a decision model that allows for quick decision-making for intended changes, but stricter control of unforeseen changes that affect the interfaces of the product platform. The latter will bring about more efforts and costs and should be scrutinized further before being approved.
A decision model for a product platform may be an escalation ladder, indicating what types of decisions can be taken at each level of the organization. A benefit of delegating decisions down to the module level is that it allows for agile concurrent development and management of the different modules, as long as the interfaces are kept unaltered. The decision model should also include what factors to consider and how to weigh the impact of change. One such example is for companies that focus on optimizing material costs where a decision model could enforce the inclusion of complexity cost into all platform-affecting decisions.
Product Platform Governance
To succeed with product platforms, it is of fundamental importance that the management team has a deep and aligned understanding of why the company is creating and maintaining product platforms. If the management team isn't fully committed, time and resources are not prioritized to ensure that the platforms are nurtured rather than left to deteriorate.
One action that the management team can take to ensure control of moving in the right direction is to complement the KPIs used to control the success of the business with KPIs specifically designed to track the effectiveness of the product platforms. By setting targets, following, and updating them, transparent and consistent leadership is provided.
The best-in-class when it comes to modular product platforms have managed to create a culture where interface governance and long-term module plans are imperatives that can't be broken.
System Support: CAD, PLM, ERP for Product Platforms
Each functional domain of an industrial company typically has IT system support to author, manage, analyze, and act on product data. Typical systems include CRM and CPQ for the Sales domain, CAD & PLM for the Engineering domain, and ERP for the Supply & Production domain. These systems have evolved over the past several decades, and over time increasing functionality to support product platforms has been added.
Since the systems rely on product Bills of Materials to structure product data, these have been developed to be dynamic. With a dynamic Super-BOM, you can manage all possible configurations of a product platform.
Since the systems rely on product Bills of Materials to structure product data, these have been developed to be dynamic. With a dynamic Super-BOM, you can manage all possible configurations of a product platform.
A key challenge with the IT support system setup is that the Super-BOMs become increasingly complex to manage as the product platforms become more flexible and agile. To make life easier, many companies split the platforms into multiple Super-BOMs covering different families of the same product for example. However, when changes to the platform are introduced, the multiple Super-BOM approach suddenly feels less appealing. The company will need to update and validate each model where the update is applicable.
On top of the multiple Super-BOM challenge, the different systems have different partitioning of the BOMs. Sales, Engineering, and Production will want to group items differently and have different levels of aggregation. In the end, the company will often end up managing multiple Super-BOMs across multiple systems, with a rapidly increasing workload and risk of errors.
Thankfully there is a better way. One solution to providing a single source of BOM logic is to use a Modular BOM. This BOM can serve multiple purposes and arrange the lowest common denominator, e.g. the module variants, in a way that the different downstream systems can explode into fully detailed E-BOMs, P-BOMs, etc. A key benefit of the modular BOM is that structures and rules are separated from the design/assortment, this way the rule set does not need to grow when the assortment does.
In a Modular BOM, the structure and design are separated. It is the task of the configurator to add module variants to satisfy the constraints that in turn can turn on or off nodes dynamically (including additional constraints to satisfy).
Product managers are tasked with aligning commercial and technical roadmaps. When working with flexible product platforms, there is a need to manage technical roadmaps that span the whole platform, and not only a product or family of products. The product platform manager needs to plan the development and launch plan of module variants and align that to the launch plan of products to the market. With large, configurable portfolios, this is often a challenge to do consistently in generic applications such as Microsoft Office. A support system designed to support portfolio and platform management may be needed. One such system to manage the product architecture data over its lifecycle is PALMA.
Product Platform Maturity Model
Two important keys to mastering product platforms are increasing the product platform scope and enabling more effective product platform management. These keys can be combined to describe a business' maturity concerning product platforms, creating the Product Platform Maturity Model.
By discussing and aligning throughout the business on the current product platform maturity, and setting targets for how to increase the maturity, a clear vision is created that helps communicate and guide the company toward a better position. A position where the company increases its benefit of using product platforms.
The Product Platform Maturity Model lets stakeholders discuss and align on present capabilities and future targets to improve product platform efficiency
How to Master Product Platforms
Mastering product platforms is not done overnight. Successful companies have spent decades continuously improving their product platforms and maintaining their long-term commitment. In this forum, I have explained what a product platform is, some key benefits of using product platforms, and what signifies a good product platform.
To succeed your company needs to create long-term management commitment, align with where you are today and what your vision is, and set clear KPIs to measure your progress. Employing product platforms is common sense, the challenge is to set targets and stick to them. By being consistent, setting the right organization, and rewarding the right behavior, the best-in-class have managed to infuse product platform thinking into the company culture.
Want to know more?
Over the past decades, we have helped businesses worldwide configure and improve their product platforms.
We are always interested to hear your story and discuss how you can improve from where you are, let us be your sounding board. Contact me directly via email or on my LinkedIn if you'd like to discuss the topic covered or be a sounding board in general around modularity and product platforms. Additionally, feel free to contact us with the use of our contact form.
AUTHOR
Tobias Martin
Vice President & Partner
+46 8 456 35 00
tobias.martin@modularmanagement.com
LinkedIn