A Complete Solution for the Modular Company
Agility, Flexibility, & Efficiency
Modular Management is the world leader in creating and implementing modular products and configurable product architectures. Through Consulting and Software, we ensure accelerated Value Creation for clients by developing products that can deliver quality and cost improvements, that serve a much wider range of your desired market, and products with leading performance and technology offerings to drive premium pricing.

Our experience ranges from one-of-a-kind project-driven products to high-volume consumer businesses and everything in between. Whether you are new to modularity or already a champion, we can lift you to even greater heights.

Our unique know-how covers the disciplines of product management, development, design, sourcing, supply chain, and how to sell modular architectures. This work is supported by our expertise in complexity costing and information management.

We are The Pioneers of Modularity.
Modular Management Consulting
Set the Modular

Strategy
Formulate an aligned vision of how to innovate, optimize, and grow to accelerate into the future that you desire.

Since the benefits of modularization are cross-functional, multi-disciplinary alignment and commitment from the management team are fundamental to ensure that you lead in the same direction.

Modular Management will help the executive management team to develop a common roadmap and vision of the future that will expand what the organization believes is possible AND a path that is both practical and executable. What is the present state and the envisioned future of your Modular Company? What is the value of reaching your vision? What is the preferred path and the key stepping stones along the way?
Create a

Modular System
The Modular System should be created to ensure the right flexibility to meet unique customer needs, agility for future development, and operational efficiency to maximize your profits.
With Modular Management's proven methods, key stakeholders define a Modular System based on customer needs and company strategy. The target is to be flexible to reach all your desired customers and markets, robust to handle future technology developments, and efficient for your manufacturing and supply chain partners.

Our methods are also suitable to improve the structure and documentation of existing modular systems you have created in the past.
Enable the Modular Company
Enable the company to get the most value from your Modular System and to sustain it long term.

The company must get the maximum benefit from its modular product line. From Sales to After Market, through R&D, Sourcing, and Production.

To enable maximum benefit extraction from your architecture, everything from team member's roles and responsibilities, their ways of working together, and the digital tools they use will be optimized and connected. Perhaps most importantly, understanding and leading the change management processes to make things happen must be addressed. Modular Management has the experience and know-how from hundreds of these journeys. We know what it takes to make you successful.
Implement and Improve

the Modular System
The Modular System is implemented within all affected functions: Sales, Engineering, Supply Chain, Manufacturing, and Services.

Modular Management has unique and proven ways of working to ensure efficiency within Hardware and Software Design, Product Configurators, Pricing Models, Strategic Purchasing, etc., to reach the full potential and sustain the system over time.

The modular system enables improved leverage of continuous improvements. Our methods ensure that the improvements are sustainable for the long term
In addition to consulting, Modular Management offers world-class software solutions for strategic and data-driven product management. In its third generation, PALMA is an enterprise-grade solution for defining and maintaining a modular system over its entire lifecycle. PALMA is centered around a product's shared specification based on customer needs, strategic product planning, modularization, and company strategy.
This specification is the foundation for defining a modular system complete with functionality to create and maintain complex configuration rules that interact with your existing solutions and processes.

PALMA is a true Software as a Service solution, simplifying implementation while ensuring the highest enterprise-grade security, integrity, and multi-user efficiency. PALMA can be integrated into your information architecture through open REST APIs to accelerate software support for modularization, product management, strategic pricing for configurable products, and control of your configuration rules.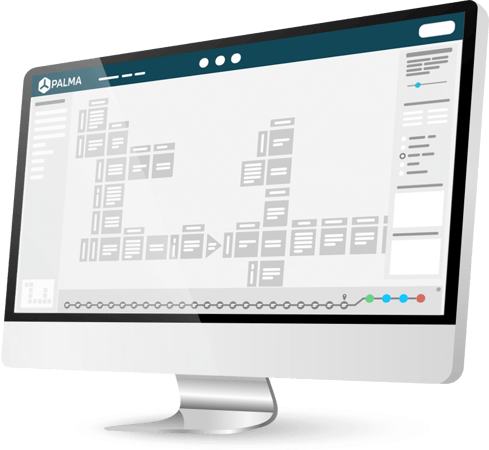 "What we were trying to achieve is a product in the market that has a competitive advantage.But there's a lot of white space between a strategy and an outcome. In fact, this is the essence of the Whirlpool story. We had a great strategy, but the products were good, they weren't great. They didn't have the advantage that the strategy quite honestly deserved. There was a gap and the mechanism to move from strategy to product geometry was using the MFD tool with Modular Management to create modular product architecture.
Steven Paddock, former SVP of Product Development at Whirlpool.
"A very positive result for us was that we ended up actually having 80% commonality across all different applications, all industries, and all geographies and yet people in the market experienced that they had a much more flexible and configurable product than they ever had before. That was a direct result od modular product architecture."
Mart Tiismann, former regional management at Eaton Corporation and the product divisions of ESAB.