In 2015 the Norwegian corporation Veidekke was Sweden's fourth biggest construction company with business in residential and commercial construction, as well as roads and other civil engineering. The residential business was complete in the sense that it included both property development, as well as design and construction. Veidekke had been working to improve the internal efficiency by investing in prefab systems, including production capability, as well as investing in further digitalization of the building information management.
The Challenge in the Residential Construction Sector
Although there have been multiple phases of industrialization in the construction sector, these changes have had varying degrees of success. And despite efficiency gains, the construction industry remains relatively traditional.
The industrialization attempts have also largely aimed at improving efficiency only, and not a lot of focus a has been put into creating unique values that would increase the customer's value perception of the product. In fact, it is evident that the customers do not perceive that the product is adapted to them, and it is basically impossible to distinguish products from different competitors.
Even though the customers do not appreciate the flexibility of the products, a lot of work is spent in each construction project to design the product and allowing for customers to choose specific add‑ons and options. Even though these add‑ons are not perceived as very flexible they are inherently costly and complex to produce. The resources spent on creating project-specific designs and solutions in each project could be seen as cost of complexity in the construction sector. Costs that could be reduced by re-use and configuration.
It is a common challenge in the construction sector to industrialize in a way that combines efficiency gains and improving customer perception of the product. Further insight on how to improve productivity in the construction sector and increasing customer value at the same time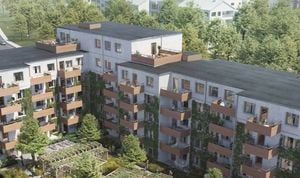 Photo Veidekke
Online Sales of Apartments and Houses
Most other products that traditionally have been sold face-to-face by a personal salesman, such as cars, home electronics, and furniture have an increasing rate of online sales. Most of the marketing of the products has moved from traditional media to new digital solutions with 3D visuals, VR/AR, and omnichannel reach. Online product configurators have become a need-to-have tool for mass customization and guided selling.
The construction industry remains in traditional physical sales meetings to a large extent. Customers may want to get a physical feeling of the product they are buying, and there is a big challenge in setting the right expectations on the product if it is not seen in real life.
It is a fact that modern consumers expect online presentation of assortment and pricing, as well as immediate buying functionality. Failure to meet these expectations may lead to fewer sales.
How Modular Management Supported Veidekke to create the Modular System
Veidekke consulted Modular Management to support the program later named Veidekke ID. The support went through all phases, from initial pre-studies to implementation and market launch.
Formulate the Vision and Targets for the Modular System
A pre-study was conducted together with Veidekke to ensure a common vision and aligned targets within Veidekke's management team. The pre-study clearly defined the scope of the program to develop a modular system for all interior components, as well as a central organization to govern and evolve the system, and tools to utilize it from sales to delivery. A plan was created ensuring a feasible path forward, and a business case was created to explain the business value. Both regarding increased revenue possibilities by leveraging increased customer value, but also internal efficiency gains from re-use and system support.
Create and Implement the Modular System
Modular Management guided Veidekke in setting up a new market model, with customer segments that explained different user preferences based on customer traits. The model was created in-house which sparked great discussion and fostered an increased outside-in perspective and later enriched with real customer surveys. The in-depth customer value study resulted in five distinct segments that could serve both product development and marketing needs.
The modular system was created in a cross-functional workgroup, by following the Modular Function Deployment process. All parts of the interior system were covered and analyzed based on customer needs documented in the market model. Great care was taken to define the system with the construction process in mind, to ensure that the flexibility offered to the customers was matched with the process capabilities.
The market model was a guide to ensure that all segments would have the possibility to adapt the product to their individual needs. A lot of care was put into product packaging, to ensure a consistent style throughout the apartment, but still allow for individual taste differences, and to offer the customers just the rights choices regarding functional solutions.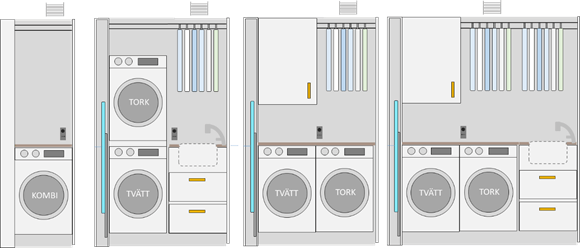 Early conceptual sketches of laundry solutions based on function analysis and customer needs
Target costing was used as a tool to ensure that the increased customer value was not followed by an increased price tag of the base product. Three price levels were defined for the base product to enable premium interior products in premium projects, and high-value products in high-value projects.
The configuration logic of the system was setup to allow for all types of buildings and apartments, while also allowing for dynamic pricing and an unbroken digital thread of data. The configurator model was setup in such a way that the customer can answer as few questions as she likes, the product is fully configured from the start and adapted for any customizations requested by the customer.
Enable the Company to Govern, Utilize and Improve the Modular System
Already in the pre-study, a need for change within processes and roles was identified. A new central function for managing a modular system independent from the building projects was designed and set up. This central function is responsible for product management, product planning, design, supply chain, related IT systems, and project support.
The construction business is conservative by nature. Great focus was put on change management and communication to ensure that the organization was able to receive the modular system.
A vision for the cutting-edge buying process was created and a path towards realizing it defined. Based on this, suppliers were selected and involved to create a complete solution where modular system data and configuration rules were supplied to a front-end configurator that presents the possible selections to the customer and visualizing the results. When the buying process is completed, the results are automatically transferred into the BIM model that updates accordingly.
Results: A Modular System Enabling Flexibility, Agility, and Efficiency
The modular system that was created enabled flexibility for different tastes of aesthetics, different functional needs, and preferences, as well as for different price levels. The system allows for all segments to configure functions that appeal to their main interests.
The modular system was decided to be used in all Swedish residential construction.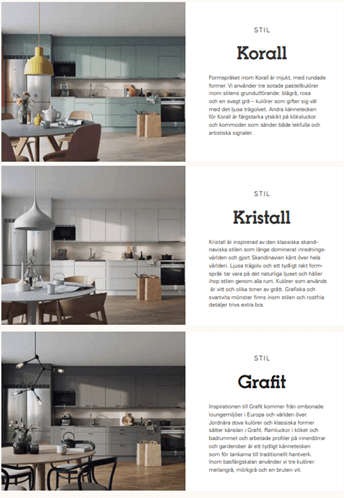 Three aesthetic styles, independent of function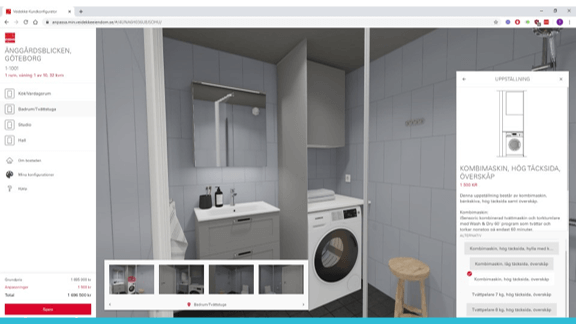 Individual functional and aesthetic needs can be fulfilled in the configurator
A central organization was set up, responsible for product management, design, supply chain, and continuous improvement of the modular system, as well as supporting the project organizations in applying it. This was a key enabler for the shift from a project-based operation regarding interiors to configuration-based.
An information management solution was designed, incorporating PALMA® for documenting the modular system, along with the configurator and pricing model. PALMA® was integrated with both Veidekke's visual configurator in cooperation with Animech Technologies, and with Autodesk®'s Revit® BIM software solution. The final solution is a state-of-the-art digital information management solution with an unparalleled 3D experience.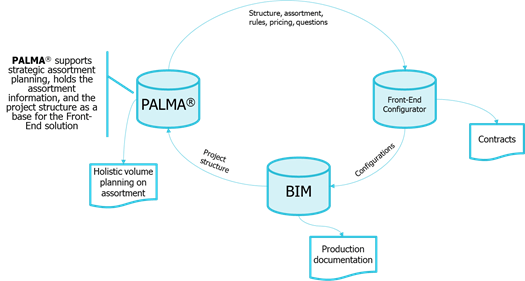 Notes
Following Modular Management's engagement with Veidekke, Veidekke's property development operation was spun off and is now in business as Nordr.
Want to know more?
If this situation is similar to yours and you'd like to know how this can be applied in your organization, fill out the form and we'll contact you.