Governance of your investment in a configurable product platform is a critical part in succeeding to reach the profit and other targets for the product architecture. In our earlier story, Governance and Modular Transformation we have discussed the importance of leadership and governance structure. In this blog post we will look at the engineering change aspects that are unique for a modular product architecture. The principles are applicable for any company that have or are considering developing modular products to fulfill their customer's needs.
As you can see in this illustration the investment in your modular product platform results in reduced complexity. The complexity cost is measured and tracked using unique part numbers for technical solutions in both hardware and software as proxy. A well-defined product architecture is fulfilling customer needs as well as being aligned with company strategies when the first products are launched from it. Over time customer needs are changing and technologies are changing and to keep walking the straight and narrow path a good system for governance of the product platform needs to be put in place, without this the complexity will quickly grow out of control again and with this the complexity costs as well. By proactively managing the change process governing the product platforms you will facilitate for longer-lasting platforms.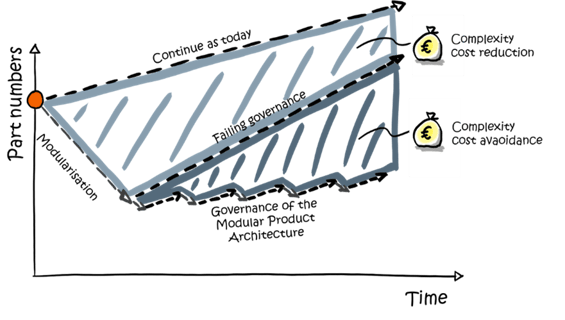 The reasons for changes to the Modular Product Platform
It is important to remember that regardless how well you capture customer needs and company strategy in your product architecture it will need updates and changes over time to secure continued profitability. This means that all requests for change needs to be evaluated and decided on, a go- or no-go decision. These decisions should be based on sound facts and consider what is best for the customer and the whole value chain of the company and not what is best for a single function. To support the decision making the company strategy, set KPI's, a total cost approach and the overall product vision will serve as good support.
To fully harvest the value from the investment in your configurable product platform you need to review and update decision forums, the decision and change management processes as well as the associated tools. This is to protect the architecture and to secure quick and high quality in implementing changes to the product architecture. With these principles implemented you will realize the benefits from your new modular product platform faster.
Typically, we will have four types of change request to the modular product platform
Internal

requests (manufacturing improvements, supplier changes, quality)

Feature requests (unplanned or order specific)

Product road map driven changes

New Technologies & innovations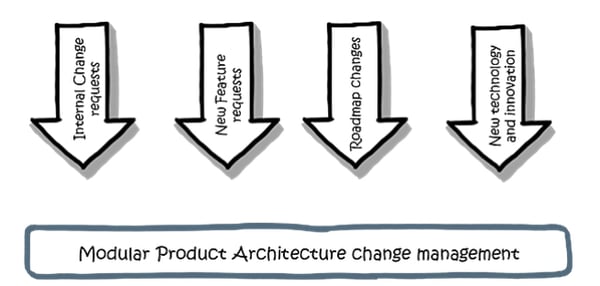 These requests drive different benefits and costs and often they need to be prioritized related to each other. Also, when moving to a modular architecture-based assortment the changes should become smaller and easier to implement as many changes can be managed within one or at most a few modules.
The internal requests are often about reducing cost, fixing problems in manufacturing or at supplier as well as fixing or avoiding quality problems for the customer.
The feature requests come from a new idea for functionality, often from product management or a new order specific request from a customer. These requests should have a business case including an increased sales volume as well as the associated development cost, product cost and complexity cost as input for the decision.
The planned changes to the assortment should be driven through the product roadmap. The product roadmap is a tool owned and managed by the product management function in the company to communicate and evaluate different alternatives to change the product offering. Roadmap decisions are both related to introductions (phase in) of new products and configurations and phase out of what is no longer needed.
You can read more about phasing out products to reduce cost in our blog about How to phase out products?
New technologies and innovation could have large impact both on customer needs fulfillment and the product architecture. Therefore, it is very important to consider these in the product roadmap but also in the design of configurable product platforms to be as prepared as possible for the required changes to enable fast introduction of the new technology.
Change process and Forums
The change requests should be processed as close to the implementation as possible. To facilitate these 3 things, need to be put in place:
A process for product change management

Forums for cross functional decision making

Have a clear and transparent decision hierarchy to manage escalations
The resulting decision model and product change process should support quick decision making in the product team for the bulk of changes and escalation principles for more complex/more expensive decisions.
The requests for changes to the product should typically be managed by the product management function in the company, consolidated and funneled to the Module system core team for the first go/no go decision or escalation.
Decision hierarchy & forums for cross functional decision making
A hierarchy of forums should be established, and all forums should be cross functional with representation from Product management, Engineering/Development, Manufacturing and Sourcing as a minimum, preferably also Sales and Service. Each forum should have a defined level of authority for approval and a development and product maintenance budget to manage within.
Below simplified decision hierarchy illustrates the entry for a change and a typical escalation flow depending on the level of change and the hierarchy of Forums.
The forums should have clear and well-defined mandate and authority to secure quick and agile decision making and communication through clarity about who takes what decisions.
Product Platform governance with an efficient change management process – the key to success
Long-term profitability and success of your product platforms are realized through good understanding of the customer needs, aligning your architecture with the company strategies, having set targets and KPI's to manage and monitor overall profitability. A good starting point or check point is to secure that you have defined your modular strategy and potential.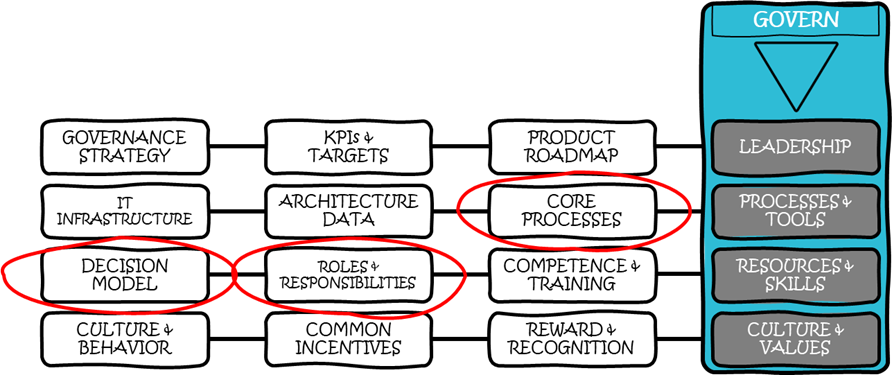 As mentioned in the beginning part of this is controlling the complexity costs through managing the changes to the modular product architecture. This means consciously adapt and adjust the module variants over time as well as managing the necessary changes to the interfaces due to changes in technologies and customer needs.
To avoid these risks you should establish a change management process that is suitable for the modular product architecture. In this article, we have given an overview of the key elements of this. To help you establish your change management, we offer you our "Guide to Change Management for Modular Product Architectures" for free download here. It contains a more detailed overview of bodies, types of amendments and exemplary procedural implementation:
AUTHOR
Lars Gullander
President
Modular Management Asia Pacific &
Representative Director at Modular Management Japan
T: +46 8 456 35 00
E: lars.gullander@modularmanagement.com