FOR MARKET LEADERS
Product Architecture Power
In order to reduce the number of part numbers, while maintaining and growing the number of product variants, the team at Edscha Trailer Systems paid special attention to the primary mechanical system of the sliding roofs.
They optimized the interfaces and modules that make up the hinges, rollers and rails.
The result?
What used to take 108 different component variants was reduced to 32 module variants connected through standardized interfaces.
The consistent implementation of modular platforms is one of our major strategic concepts for the future. The competence and know-how that Modular Management offers has been a great support for us when implementing changes of vital importance in the areas of R&D and manufacturing processes.
Company Description
VBG, now part of Edscha Trailer Systems, was started in 1951 by an engineer, Herman Krefting, who had a passion for making improvements to traffic safety. He designed and patented a new truck coupling that greatly improved the attachment of trailers to heavy trucks. The business he started to manufacturer these couplings grew rapidly during the 1950's and continued to grow over the years with the addition of new coupling products and new sales offices across Europe.
Today, the VBG Group is in the business of developing and manufacturing many different components for the heavy vehicle industry. It is comprised of four divisions that total $ 375M USD in annual revenue. Sales are direct to OEM vehicle manufacturers or to specialty truck body builders, and there are also retail outlets for aftermarket purchases.
The VBG Truck Equipment division is a leading supplier of coupling equipment for truck and heavy trailers. It has more than 50% market share for coupling equipment through VBG and Ringfeder brands. Customers are truck and trailer manufacturers and aftermarket body builders who assemble specialty vehicles from chassis they purchase from the manufactures.
The Edscha Trailer Systems division is a leading supplier of moveable enclosures for trucks and trailers. It has just below 50% market share for sliding roofs through the EdschaTS and Sesam brands. Customers include European trailer manufactures Krone, Wielton, Tirsan, Kässbohrer, Fruehauf und Berger along with truck body builders and aftermarket retailers.
The Ringfeder Power Transmission division is a global market leader in mechanical power transmission niches within and energy and shock absorption for widely differing industries including construction, machinery, power and mining.
The Mobile Climate Control division is active in the market for climate control systems for buses, off-road, utility and defense vehicles. The division is focused on customized solutions in small to medium-sized series. Its solutions include heating, ventilation, air conditioning, and controls, as well as a wide range of associated components.
Business Description
Up through the 1980s, the company focused on improving and delivering the core set of trailer coupling products under a single brand name. In addition to the original couplings, they developed high quality fifth wheel attachments for semi-trailers and tow-bars for automobiles. Sales grew steadily over the years and they expanded with in northern Europe with new sales offices and more advanced manufacturing facilities.
In the 1990s VBG started acquiring other small companies to add to products and brands to their portfolio. They added complimentary products and new products to go after different markets. The complimentary products were aligned with existing products and they strived for synergy across the businesses and bottom-line cost savings.
With growth and acquisitions, VBG was faced with having to offer a large assortment of products into a relatively small market where the flow of orders was highly varied. Costs and lead times were on the rise due to the large number of different products and they had little to no ability to gain scale. The production of drawbar couplings was customer-controlled, and variations in the number of incoming orders were managed by re-allocating resources, working overtime, employing temporary personnel and maintaining high volumes of inventory to cover the peaks. VBG was having trouble keeping up with their competitors with offering the product features demanded by customers.
In 1993, VBG began a relationship with Modular Management. An initial modularity project was completed for the original truck couplers, and it succeeded in lowering total costs and reducing the number of unique parts and article numbers by 42%. A series of modularization projects were some of the major contributors to raise net profits. There was also a considerable reduction in lead-time that made it possible to deliver products to customers in Scandinavia within 24 hours
In 1997, VBG acquired Ringfeder who was a direct competitor for trailer couplings and also offered machine elements for power transmissions. By leveraging the Modular Product Architecture that was previously developed, VBG was able to quickly integrate Ringfeder couplers into the VBG product family gaining the efficiencies of a single product platform.
Edscha Trailer Systems
In 2005, the company increased its product diversification with the acquisition of Edscha Trailer Systems and Sesam sliding roof systems for trucks and trailers. The company is the inventor of the sliding roof system for trucks and trailers with products that enable easy cargo loading from either the top or sides of a truck. The Sesam included the same types of products with lower price and performance.
In 2009, the global economy reduced the overall demand in the truck market. Edscha Trailer Systems and Sesam were the hardest hit in the VBG portfolio when OEMs were unable to move inventory of trucks and trailers. Many fewer sliding roof systems were being installed. The lower demand had exposed the inflexibility of the product costs to the volume of production.
Having been a recent VBG acquisition, sliding roof systems had not yet benefited from the creation of a Modular Product Architecture. Past success with implementing modular platforms gave VBG the confidence that this approach would be a viable solution for the cost challenges of this division. Edscha Trailer Systems 's journey will be the subject of the remainder of this case story.

Typical Trailer Sliding Roof System offered by Edscha
Product Marketing & Management
For Edscha Trailer Systems it had become increasingly difficult to differentiate trailer systems products from competitors. On average, the market was conservative, and innovations required real changes in customer value and extra time for customers to adapt.
The marketing team at Edscha Trailer Systems identified a unique product offering for each model year. They decided what features and options would be offered to customers as standard products while special features could be developed upon request. The team was also balancing the two brands, Edscha Trailer Systems and Sesam, and inevitably they were offering some products with overlapping performance.
Product Design & Engineering
Sliding roofs are a mature product line and there have only been incremental changes over the years. The engineering team was small and had never completed a large product development project. The annual change in product offering required only small design changes, and the team spent the rest of the year fulfilling customer requested options. They also spent a large amount of their time on solving quality issues.
Product Operations
Portions of the products we assembled at the Edscha Trailer Systems factory in the Czech Republic where purchased components for the sliding roofs were cut and riveted together. Other components were delivered directly to OEMs or to the retailers for assembly on the vehicles. Most components are sourced exclusively for the company from 140 different suppliers. In 2011, they produced approximately 30 000 to 35 000 sliding roof systems.
The consistent implementation of modular platforms is one of our major strategic concepts for the future. The competence and know-how that Modular Management AB offers has been a great support for us when implementing changes of vital importance in the areas of R&D and manufacturing processes.
Modular Architecture Goals
By creating a Modular Product Architecture for sliding roof systems, Per Ericson sought to significantly reduce their overall costs and make the business more robust to downturns in the market.
Per looked to combine Edscha and Sesam branded products into the same product platform. He was confident in the fact that VBG had realized many benefits in 1997 doing the same with the VBG and Ringfeder trailer couplers.
We are acting in a mature market with hard competition from both local and international players. Through a modular concept, we can increase our completive edge and work more efficient with a good profit level. Modular Management supported and guided us through the process from being a company with a large assortment with unique components to a modular structure with drastically fewer components. My opinion is that we would not been in the position to work through this process by ourselves. Modular Management's support and guidance was needed and necessary to bring the project to a successful ending.
The Himalaya project was launched in January 2011, and the investment would all be paid back within 4-5 years after the product launch. The company looked to develop the underlying product architecture and then implement specific products via smaller projects that reduce risk and increase speed to market. The key performance indicators for the project included the following:
Meet customer´s various demands via increased configurability

Increase barrier for competitors by being an undisputed market leader

Be agile with faster time to market and reduced time to delivery

Reduce the number of unique components.
Revenue Growth
Edscha Trailer Systems sought to maintain their market share defending it from a new and growing competitor. This would be accomplished by offering additional, desirable product variants and a substantial reduction in average lead time to the customer.
Profitability Improvement
The downturn in the market was a harsh awakening for the company. They needed to make drastic changes to their product costs basis in order to remain solvent in the future. The overarching goal was to reduce the number of unique parts by 70%. These are parts that needed to be designed and managed within the supply chain system. With part number reduction, it was estimated that the number of different suppliers could be reduced by 70% and inventory costs would be reduced by 45%. Direct material costs would be reduced as well.
Business Results
By the end of 2013, Edscha Trailer Systems was already seeing the impact of their modularity efforts with trailer sliding roof systems. Even though the product had not yet officially launched, they were seeing the impact of decisions and efficiency improvements that had been made along the way. Backward compatibility allowed new components to work in old systems.
Edscha Trailer Systems – enhanced profitability in continued weak market

Heading into 2013, the division expected the trailer business to perform positively and that demand would increase in the second half of the year. However, the market remained weak for much of 2013 and it was only toward the end of the year that an improvement could be seen. Despite this weak market, where growth in turnover for the division only amounted to 1 percent, Edscha Trailer Systems improved its profitability and its operating margin rose to 9 percent. Lower costs and more efficient processes contributed to this and the division expects to further improve profitability as a result of the launch of the newly developed generation of sliding roofs in the market in 2014. However, it is principally the result of the anticipated increase in turnover volumes due to the improved market situation that Edscha Trailer Systems will also produce the necessary growth. The main market driver over the next two to three years is primarily the clear need to exchange or replace the existing trailer stock in Europe.

I hold great hope and expect Edscha Trailer Systems, with its strong market position and newly developed products, to have a solid basis in 2014 to continue its journey towards long-term profitable growth
Future cost savings were also being booked as new contacts
were being negotiated with the smaller set of suppliers. Overall cost
reductions were zeroing in at 15%. This was very close to the initial estimate
by the team and Modular Management. Upon these early successes, the Edscha Trailer System division has already launched the development of another Modular Product Architecture
for the line of sliding roofs that are installed on tipper trailers.
Product Marketing & Management
The market launch of the new product range will be coordinated with each customer and should be implemented within one calendar year.
In addition to key customers, the team performed a market study of 20 truck body builders and 130 end customers. They confirmed with customers that increased product variety and reduced lead time would be the key to maintaining their market share. They also discovered that product reliability, safety and fast open and close are the critical customer experiences they needed to deliver.
Through the development of the Modular Product Architecture, the marketing and product engineering teams have developed new ways of working together. They have created a strong connection between customer needs and the technical solutions provided within the product. They know very clearly what modules and components deliver significant customer value and prioritize their product development efforts accordingly.
Product Development Engineering
The clear product priorities allowed the engineering and design team to spread out the development effort over time. With limited resources and funds, the team could not develop the entire range of module variants in one large program. They first developed the underlying product architecture that would last over time and then some of the key common module variants. Then, they could space out the introduction of additional modules over time. In fact, the product could be launched while the team was still developing new modules variants. They planned to keep introducing new ones to support the ongoing need for product variety in the market.
Development time for new module variants was set to the following:
New module or important module variant is 12-18 months (requires prototype and field test)
New product update (module variant without prototype of field test) in 6 months
Customer adaption: hole pattern of minor change will take 1 month.
A long-term focus around modularity has been implemented in Edscha Trailer System's design department. Specifically, the team is much better at designing for production and supply chain and is saving money down the line. Even if it makes the design effort a bit more complex, they are developing and maintaining interfaces that enable efficiencies within operations.
Product Operations
The impact to product operations could be estimated early on as the team negotiated new deals with their suppliers. With reduced part numbers they could plan for higher volumes, fewer suppliers, less inventory and lower costs. At the start of the project, the team predicted a certain reduction in direct material costs, and after the initial planning with suppliers, they were achieving a reduction very close to the original predicted figure. The number of suppliers was reduced from 140 to 40.
The benefits of a more efficient supply chain were being extended to the retailers. Many were planning to keep less stock on hand because they were getting shorted lead times from EdschaTS.
Modular Architecture in Action
In order to reduce the number of part numbers while maintaining and growing the number of product variants, the team at Edscha Trailer Systems paid special attention to the primary mechanical system of the sliding roofs. They optimized the interfaces and modules that make up the hinges, rollers and rails.
What used to take 108 different component variants was reduced to 32 module variants connected through standardized interfaces.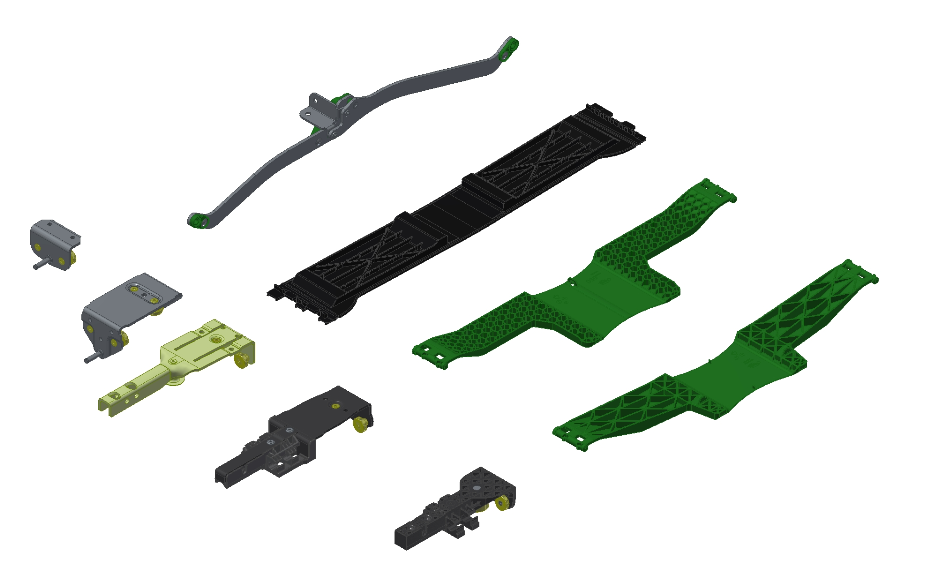 39 Hinges Reduced to 4. 23 Rollers Reduced to 5.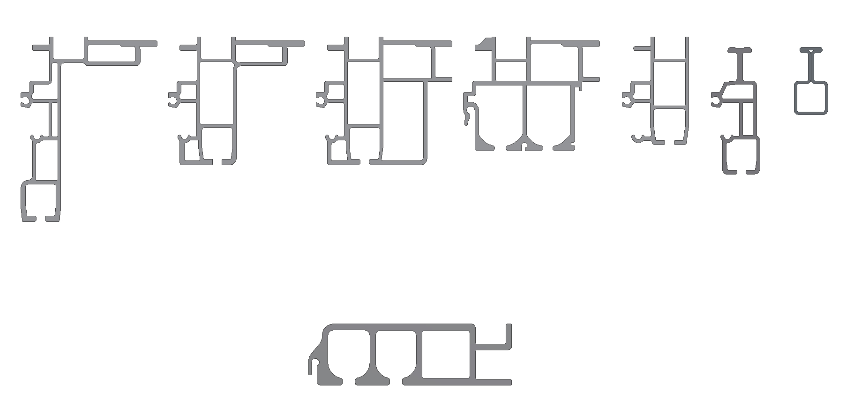 44 Rails Reduced to 8