To stay competitive in today's business climate, industrial companies are increasingly turning to digital tools to help them manage their products and portfolio with a strategic and data-driven approach. All of which are vital tools for success. However, when today's volatile economic conditions and supply chain disruptions threaten profit margins and sustainable growth while increasing the overall risk to the organization, choosing the right digital tools is more crucial than ever.
In working with clients to help them optimize their product portfolio, we have found that some organizations use outdated tools or tools that they have long since grown out of. These primitive solutions prevent them from leveraging enhanced economies of scale or increasing speed-to-market.
Fundamentally, product lifecycle management (PLM) is the strategic process and praxis of managing the complete journey of a product from initial ideation, planning, development, service, and disposal. In short, PLM means managing the evolution of products from the cradle to the grave.
Industrial companies all practice a PLM process to some extent. Nonetheless, many have yet to level up their practice to a portfolio and platform approach. If they have, they are often using rudimentary tools that, because of their siloed nature, foster disconnection between customer requirements, product planning, and execution, the product teams themselves, and the organization's strategic goals according to the market needs. These inferior tools are often to blame for sub-optimal decision-making regarding the product platforms. Additionally, when an organization manages more and more platforms over time, their efficiency significantly decreases across all business functions: Product Management, Sales, Supply, and Development.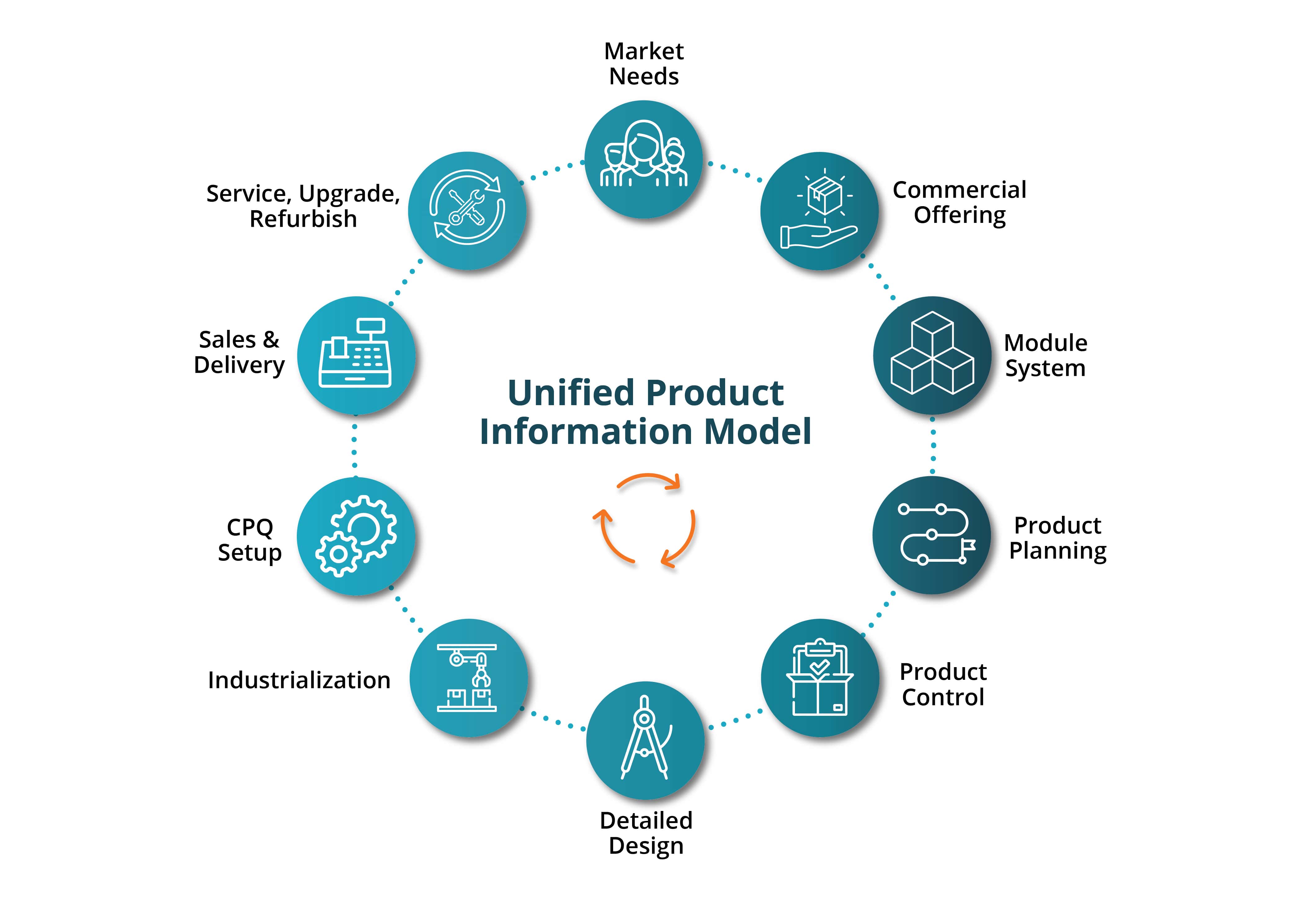 Stages of Product Lifecycle Management
What have we Learnt from Enterprise Thinking?
Organizations knew that they could better leverage the efficiencies promised by using technology. They were frustrated with siloed data, applications, and systems that were black boxes. This rigid environment was not beneficial to the business as employees were burdened with redundant processes and the inability to report on data except in silos. They could not get a holistic view of their systems; hence, there needed to be more data-driven decisions. Many tech-driven companies then changed how they thought about and deployed their hardware and software tools. In short, instead of thinking of each application, middleware, database, and OS discreetly, you consider the entire enterprise in decision-making. This methodology makes the organization leaner and more agile—by reducing waste and inefficiencies from siloed thinking and by increasing everyone's understanding of organizational goals, vision, and functions.
Innovating continuously depends on several interconnected factors and data, such as leadership, resources, culture, structures, processes, products, customers, markets, etc. By leaving the siloed systems and focusing on systems that openly share data over public APIs, modern organizations can report on data from multiple sources simultaneously, enabling faster and better data-driven decisions.
Tools for Product Management
What is Product Management?
Product Management is the company function and process responsible for the development of a portfolio of products. They create a portfolio strategy for the organization's business and market strategy. They are responsible for creating plans for how the portfolio should be evolved to deliver on the product strategy, called product roadmaps. Setting up the product roadmaps requires an understanding of the performance of the existing products, a deep understanding of the customer needs, and the competitive landscape to enable smart prioritization of the development resources.
(Commercial) product managers are typically owners of pricing of products. This role can also be a key interface to interview customers and collect feedback on actual product performance. This important insight can be included in the requirements specification when developing new products.
To summarize, much data is involved in these different decisions.
On top of this, (technical) product management also owns the product architecture, describing how different platforms are developed and utilized to enable the planned products to work efficiently over time. While often invisible to the customer these platforms allow significant efficiency increases in Sales, Supply, and Development. There are specific and specialized product architecture tools, such as PALMA, for managing the product architecture over its entire lifecycle.
The task of architecture management involves governing the change process for the architecture. This involves answering questions such as "When should a platform be developed further to enable a requested feature?", "When should we develop a new platform?", "What type of developments are easily facilitated on existing platforms, and which are not?" and "How can we ensure that we can phase out old platforms when introducing new ones?"
Product Management Tools
While Product Management is a data-heavy function, the tools used are often outdated or outgrown. Having the wrong tools will hinder efficient global collaboration, will not visualize portfolio effects, and ultimately lead to poor decision-making.
Organizations often use a combination of specialized product documentation tools and general-purpose office tools.
General Office Tools
Many product managers rely heavily on general-purpose office tools such as Microsoft's Office suite (specifically Excel, Word, and PowerPoint) to document the product portfolio, platforms, plans, and decisions. While these tools require virtually no investment and no start-up time, they will also give very little support to the user, who has to reinvent all the features that other product managers have already invented. Office tools are also prone to have weak version control and multi-user support, making it hard to see what decisions have been taken by whom and what is the current truth.
Custom Solutions
Larger organizations have often seen the limit of using spreadsheets and instead developed their own database solutions to manage product requirements across the portfolio. In some cases, these systems can also handle documentation of platforms and the capabilities of each of these.
A homebrew solution may fit the specific requirements very well at a given time. However, to maintain a custom solution over time a significant effort is needed, including integrations into ever-changing commercial systems. And if this maintenance work needs to be given more focus, there is a large risk that product managers will start putting more and more data in general purpose documents instead.
Product Data Management Tools
Practically all industrial companies use some form of PDM system, now often marketed as a PLM system. Its most simple use is a shared vault for CAD files and BOM-structures that describes the existing products with a version control function. More complex systems will handle documents, requirement specifications, testing protocols, change and release management, as well as tracking already sold and produced products as they are changed and serviced over their lifecycles.
PDM systems are not built to keep an overview of the product architecture. Most commonly, the systems are based around the BOM structure and lack functionality to document key objects of the architecture, such as platforms, interfaces, and modules. The PDM system only focuses on information that is related to a specific part number.
That said, most PDM systems can be configured with categories, tags, labels, etc. that can overcome some of these limitations. But the fact remains that these systems are built with the part and BOM as the center point rather than the overview of the architecture.
CPQ Tools
A Configure-Price-Quote (CPQ) tool is a game-changer for sales of a complex configurable product. Based on a set of rules, it is a tool that support the sales team in translating customer needs into a valid product configuration, complete with a quoted price and other metadata. The CPQ system often generates a Bill of Material that is transferred to the PLM system, ERP system, or both to fulfill the order.
The CPQ tool rule set is valuable to the company since it describes what products can be built, and what they are suitable for. It also includes pricing logic. Launching a new product must be implemented in the CPQ tool, enabling the sales force to sell it. These are all key product management data items, but since many CPQ tools are mastered only by a few experts in the company, the CPQ tool maintenance becomes a bottleneck and a risk. Many CPQ tools and models are also set up in a similar fashion as the PDM tool, where each product (family) has its specific rule set, increasing the burden further.
Specialized Architecture and Platform Management Tools
Some tools take an end-to-end approach to managing product architecture, from market strategies and requirements in one end to configuration rules at the other. One such tool is PALMA, specifically developed to support the design and maintenance of a product architecture. A tool in this category should take its starting point in architecture rather than parts. It should enable digital connectivity over public APIs to ensure minimal data redundancy and maximum automation capabilities.
PALMA allows product managers to take control over the architecture governance as well as to define configuration rules and commercial configuration logic with a very scalable and flexible approach that enables wide portfolios of products to share a common product structure that is separated from the parts and thus can be flexible for fast development of new features and functions.
Leveling Up to a Portfolio and Platform Approach
Just as operating an organization's IT stack at an enterprise level increases tech-driven gains, managing products at the portfolio level using an architecture and platform management tool brings many of the same types of efficiencies.
Enterprise tools evolve with maturity. For example, the Human Resource tools of old have morphed into Human Capital Management platforms. Similarly, the evolution of specialized product architecture and platform management tools levels up the capabilities of product management when transforming away from a homebrew cocktail of engineering tools, MS Office, plus database and a business intelligence solution to a platform capable of managing every aspect of the product lifecycle.
Leveraging an enterprise tool for product management enables sharing information about the architecture across co-workers, sites, and functions, no matter where you are in the lifecycle process. Suppose you are in the market requirements phase and deciding on the specifics of the product architecture. The data can be transferred to the next step in the development to execute the design or to prepare production and sales. From a planning perspective, the entire chain and system are updated automatically if changes are needed. This ingeniously solves the problem of everyone only using their respective applications, office documents thrown over silo walls, and the multiple versions of the truth on product roadmaps, technical roadmaps, etc.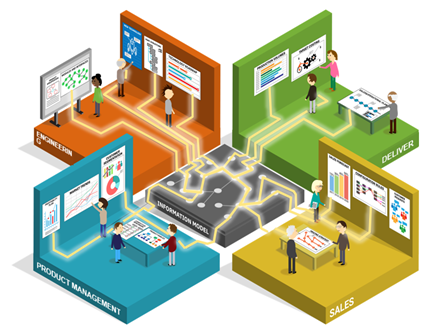 Unbroken digital thread:

Seamless automatic exchange of information across company functions
PALMA was purpose-built with all phases and functions of the product management lifecycle in mind. PALMA is an enterprise-grade solution for both defining and maintaining a modular system over its entire lifecycle. To ensure alignment, PALMA is centered around a shared specification of the products based on customer needs, strategic product planning, and company strategy.
Generally, two extremes of organizations benefit from implementing PALMA (and everyone in between). The first is a high-volume industrial company that produces a tangible product with software. Using PALMA, they benefit from efficiencies at scale, lower supply costs, and increased speed-to-market. The second organization has lower volume, but their product is very complex and requires greater customization before implementation. Using PALMA, this lower-volume company can leverage a modular product architecture to deliver an evolving family of market-driven products.
As we grow increasingly sophisticated as organizations, our product management problems also increase in complexity and scale. Companies challenged by large product portfolios, developing highly configurable products, or multi-brand product catalogs can leverage PALMA to increase efficiency, reduce market time, and lower complexity costs.
To learn more about PALMA or to request a demo, please email to discuss the topic covered or have general questions about product architecture and configuration.
AUTHOR
Fredrik Erbing
Executive Vice President at Modular Management